Ella K. Ewing
A Missouri Legend
March 9, 1872 - January 10, 1913
by Kathy Comley Jenkins
If you live in Northeast Missouri, or if your family comes from Northeast Missouri, then you have heard of Ella Kate Ewing. Perhaps your grandparents, like mine, told you stories about the eight foot four and one-half inch tall giantess or showed you their treasured newspaper articles and photographs of her that they had collected through the years. Maybe a relative drove you by her vacant and deteriorating house, took you to see her long grave, then stopped for an ice cream cone at Granville Hustead's store in Colony, Missouri to view a large photograph of Ella he had on display there. Maybe you were even lucky enough to see one of her shoes.
She lived in a rural area near Gorin, Missouri, not far from Rutledge. My great great grandfather was Judge George Buford, lifelong friend and neighbor of Ben and Annie Ewing, and their daughter Ella. He helped the Ewings and Ella negotiate her first exhibition appearance at the Chicago Museum and at the age of 17, Ella had a check in the amount of $1,000 deposited to an account in her name.
During her exhibition career she learned to negotiate her own contracts, which led her to travel the United States and Canada, meet people from all over the world and bring back her knowledge and share it with her friends and family. She elevated the lives of those around her and changed her community forever.
Delaus Jesse Buford, my great great uncle, traveled with Ella through the West as her manager. He also donated one of her shoes, size 24, to the museum in the state capitol building at Jefferson City, Mo. in 1929.
Miss Ewing and her parents attended Harmony Grove Baptist Church with my relatives, and now these two families and our descendants are buried in this little church cemetery.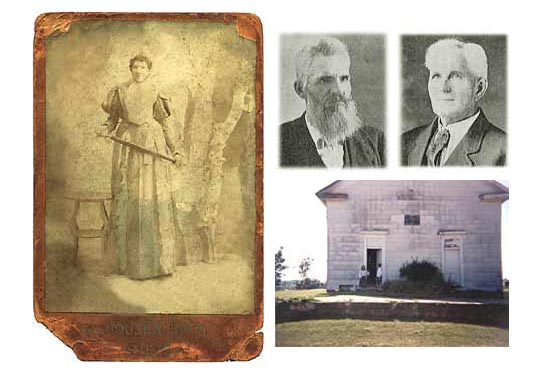 Left to right: Photo of Ella Ewing given to me by my grandmother, Mary (Letha) Price Comley.Judge George Buford, Friend and Neighbor. Delaus Jesse Buford, Friend and Manager. Cousins Clare Jenkins and Russell Comley, June 1996 Harmony Grove Baptist Church, at the burial of their great grandfather, Kessler Comley
Home / Overview 2 / Newspaper Articles / Exhibition History and Photographs
Growth Rate-Measurements / Her House / Museums / Books / Obituary / Personal Memories