Her House
By Kathy Comley Jenkins
After Miss Ewing had achieved some financial success from exhibiting, she had her own house constructed.
Miss Ella's father, (known to everyone in the community as "Uncle Ben") outlived his wife and daughter, and it has been written that he resided in this unique home until his death in 1933.
Yet, I know my family lived in this house prior to that date. My great grandfather Joseph Milton Comley bought the house and lived there. After his wife died, he remarried in 1926 and moved to Rutledge. He then sold the farm and the house to his son, my grandfather, Kessler Comley, and he and his wife, Mary Alethea Price, moved in. My two uncles were born there. Harold Comley in 1927 and Vernon Comley in 1929. My great aunt Lucy Price Haller remembers visiting the house when her sister lived there, especially when Vernon was born because he was a New Year's baby. She also told me that my grandmother often had visitors who would stop and ask if they could see Miss Ella's house, and she was more than happy to give them a tour. My grandfather found one of Ella's shoes in the attic and traded it for a horse bridle.
My grandfather lost the house to the bank and my father, Joe Comley, remembers moving from the house, riding in a wagon pulled by horses, loaded with oats and the canned goods from the cellar. He was 5 years old and thinks it was around the month of January, which would have made it 1932.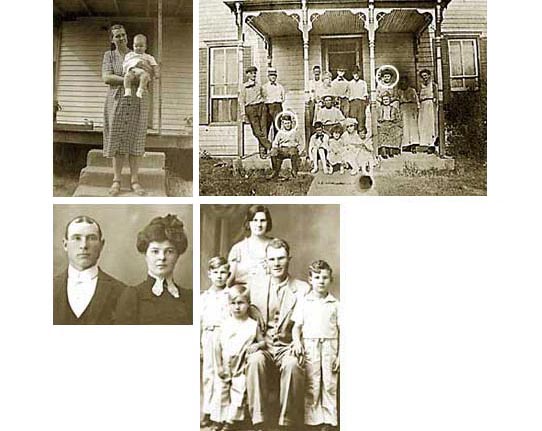 Photos — Left to Right
Ella's House (1953?)—My grandmother, Letha, with her granddaughter, Brenda Kaye Comley
Ella Ewing's House (No Date) —This is a picture I found among my great grandfather's things. I believe the woman circled is my great grandmother, Elizabeth Ardelia Buford, daughter of George Buford, the Ewings' neighbor. The boy on the front row could be my grandfather, Kessler Comley.
My Great Grandparents—Joseph Milton Comley and Elizabeth Ardelia Buford Comley
The Kessler Comleys —(L to R) Joe, Vernon, Letha, Kessler, Harold
House Construction
House Photo
House Destruction
Home / Overview / Newspaper Articles / Exhibition History and Photographs
Growth Rate-Measurements / Her House 2 3 4 / Museums / Books / Obituary / Personal Memories