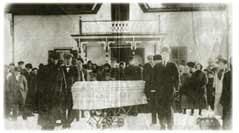 Ella Ewing Obituary
From: The Memphis Democrat January 16, 1913
Miss Ella Ewing, the tallest woman in the world, died at her late home near Gorin, in this county Friday morning, January 10th, 1913. This announcement that reached Memphis at about eight o'clock Friday morning caused sadness to the hearts of those who knew the deceased best.
Miss Ewing was born in this county and had always made this her home. When she was but a young miss her growth to an unnatural size began to develop and before she reached the age of fourteen it was known that she would soon become easily the tallest woman in the neighborhood. At that time she was very sensitive on account of her great size and the attention she always attracted when she happened to be in a crowd of people.
But as she grew older this timidity became less, and after growing to womanhood her friends, induced her to go out with shows. She went reluctantly, but while she was going she became quite an attraction and got an independent living from her earnings.
With all this, she still maintained her quiet, modest demeanor, and was of such a loveable disposition as to draw friends to her. She earned sufficient funds to remove a debt from her father's farm and erected a house thereon that was built in such a manner that the doors were high enough that she could enter without having to stoop. Here it is proper to state that Miss Ewing was eight feet four inches tall. The bedstead on which she slept was made with special side rails to accommodate the owner, the frame of the piano was large and everything about the house built to correspond.
Miss Ewing, in her business, necessarily was called to all parts of the country. She made use of this extensive travel, being a close observer, and was able to converse fluently about what she had seen and heard in various localities. Travel made her acquainted with the affairs of men and served a good purpose in completing her education.
She was the daughter of Benjamin Ewing, her mother having died a few years ago, and there are no other children in the family. The home has always been a most hospitable home and the charming hostel, delighted to entertain company. Persons who have been fortunate enough to be her guests all are lavish in their praise of the hospitable treatment they received. The father of the deceased survives. Also a number of relatives and friends, who have the sympathy of all in their bereavement.
Miss Ewing's funeral was held at Harmony Grove Baptist Church in Knox County, Monday morning at 11:o'clock, after which the remains were interred in the cemetery nearby. Miss Ewing enjoyed a large circle of friends and there was a great crowd attended the funeral, thus attesting the high esteem in which she was held.
The funeral sermon was preached by Rev. F. M. Baker, pastor of the Baptist Church at Wyaconda.
The funeral was one of the largest ever held in this county and was attended by the numerous friends of the deceased from the four counties in Northeast Missouri.
The casket which contains her body, had to be especially made, and it was placed in a steel vault, embedded in concrete. It was Miss Ewing's wish that upon her death, her body should be cremated, but her father, who is greatly grieved over her death, could not consent to, and the remains were buried near Harmony Grove Church in the neighborhood where she grew to womanhood, and where she numbered her friends by the score.
Miss Ewing will be greatly missed in that neighborhood. Her home was a most hospitable one, and she enjoyed the company of her relatives and friends, and even those who went through curiosity were always treated with courtesy and respect. While Miss Ewing has traveled the continent from coast to coast, she was a lady of domestic taste, and always enjoyed the time she spent in her own home. She was a splendid conversationalist, and related in a most entertaining manner, stories of her travels.
While she grew to unnatural proportions, her life was not unlike that of other refined ladies. It was with reluctance that she ever consented to travel but once she did, she would never go without her mother or some lady companion of her own choosing. Her mother always accompanied her until her death, a few years ago, since which time, she had been accompanied by some lady relative or friend.
Home / Overview / Newspaper Articles / Exhibition History and Photographs
Growth Rate-Measurements / Her House / Museums / Books / Obituary / Personal Memories