Memories of Living in the Ewing House
By Kathy Comley Jenkins
Per conversation with
Maxine Walker, Age 84
Step daughter of my great grandfather, Joseph Milton Comley,
from her home in Florida, July 21, 1999 and prior to her death in August, 1999
Joseph Milton and Elizabeth Ardelia (Arda Buford) Comley lived in the Ella Ewing house with their son Kessler Comley. Arda died in 1919 leaving Joseph and Kessler (age 12, one month shy of 13) alone. Joe employed a widow, Sara Ellen Orr Frances, to live in the house to cook and clean for the two of them. She brought with her her two youngest children, Marian (born 1912) and Maxine (born 1915). Maxine remembers she was around 5 at the time they moved in, which would have made it 1920.
Maxine remembers living and playing in the house. When you entered the front door, Ella's bedroom was on the right. To the left was the living room where her large player piano still stood. Next was the dining room, then the kitchen – with a large pantry off of it. To the south was a big screened-in back porch. The shutters of the house were a beige or brown color.
Upstairs in a closet were some of Ella Ewing's clothes and shoes. Maxine and Marian used to play with them, no one ever thinking they would be of any value someday. They also played with the player piano and Maxine said it worked well.
After a romantic interest developed between my great grandfather Joseph Milton and Mrs. Frances, she and her two daughters moved out of the house to Rutledge. In August of 1925 at the age of 19, Kessler married Mary Alethea (Letha) Price. Marian married Letha's brother, Ben Price on July 10, 1926 at the age of 14. That left Joseph Milton and Sara free to marry on July 24, 1926.
Joseph Milton then purchased land close to Harmony Grove Church where he farmed and received a pension from the war. Maxine lived there with her mother and stepfather. Kessler and Mary Alethea bought the Ewing house from Joseph Milton. Two of their three children were born there. When they moved out of the house around 1932, the player piano was still in the living room.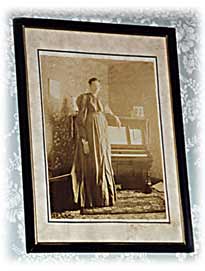 Home / Overview / Newspaper Articles / Exhibition History and Photographs
Growth Rate-Measurements / Her House / Museums / Books / Obituary / Personal Memories 2